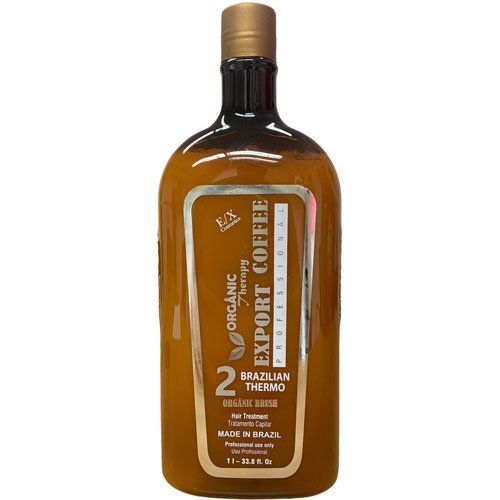 Straightening Export Coffe Organic 1L
Organic Smoothing Pack
with Keratin and Coffee for a
absolute and shiny safe straight
. Coffe Brasil Keratin restores the health of your hair and offers an incredible natural smoothing of radiant shine 100% safe and effective.
---
Reference: 7899815709726
Brand: Export Cacau
Availability:

Not Available Online
Indication
It can be used in all kinds of hair, including dyed, before smoothed or with bleached strands
In any case, the hair to be smoothed must be healthy and in its perfect conditions
If the hair is damaged, weak or with breakage, prefer to do a

keratin treatment span>

to strengthen it before smoothing
Active ingredients
Organic Thermal Sealing : Promotes hair realignment and instant recovery. Treatment indicated for an extremely damaged hair.
Coffe: Stimulant that increases production of Amino Acids and maintains capillary health. It stimulates hair growth and lengthens its lifecycle. It favors blood flow, since it interacts with the hair follicles, which improves the distribution of nutrients between the hair, making it grow much stronger and healthy. It has antioxidant effect.
Keratin: Leaves the hair shiny and strong.
Action
Organic Thermo Keratin, makes the hair smooth and intensely shiny.
Result
Long smooth effect
Intense shine and softness
Healthy and treated hair
Method of use
Perform the diagnosis of the hair to the client
It is recommended to do a strand and allergy test
Step 1: Apply the Shampoo and massage gently. Leave for 2 minutes. Rinse. Repeat if necessary. Dry 80% of the hair with a hair dryer.
Step 2:

Separate the hair into 4 equal parts and start the application of Brazilian Thermo Keratin, only at the base of the two back wicks, individually.
Open the wick in the middle and pass the product from the top to the bottom. Spread the product in full length of the wick with the help of a fine comb.
Let it act for 25 to 60 minutes depending on hair type.
Wash the hair only with water.
Dry the hair eith Dryer.
Divide the hair into four parts and pass the iron 10 to 15 times in fine wicks.
Composition
Aqua, disodium EDTA, propylene glycol, guar hydroxypropyltrimonium chloride, cetearyl alcohol, behentrimonium metthosulfate, cetrimonium chloride, coffea arabica fruit powder, polyquaternium-7, hydrolyzed keratin, mineral oil, glyoxylic acid, dipropylene glycol, polysilicone-29, parfum (benzyl alcohol, benzyl benzoate, benzyl cinnamate, eugenol, isoeugenol, linalool.
More information
Follow the full instructions of method of use and always do the strand test.
It is recommended
used a profesional iron for this type of treatment,
with titanium plates and temperature regulator.
Review and opinion