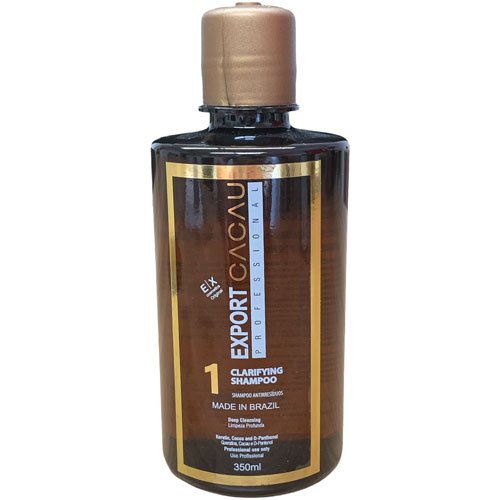 Clarifying Shampoo Export Cacau 350ml
The Best Professional Treatment for your HAIRDRESSER
.
The best treatment in Brazil, Cacau, is back: the one everyone has been waiting for.
Express Transformation Treatment.
Brazilian BlowDry: no waiting time or pause. Without Formaldehyde, with Keratin.
Soft hair like you've never seen and free from frizz.
Interested
request price
and a specialized commercial will contact you.
Exclusive Import and Distribution BrasilyBelleza in the European Union.
---
ANTIRESIDUOS
---
Reference: 7899815708613
Brand: Export Cacau
Availability:

Not Available Online
***** OFFERS A 5 STAR EXPERIENCE *****
* Blow dry treatment without waiting time
* Does not alter the color, dye and highlights same day
* For unshaped, colored, bleached and damaged hair
* Smooth result, without frizz, hair repaired and soft
* The best treatment of the moment
YOUR CUSTOMER READY IN 1 HOUR!
MAKE A DIFFERENCE IN YOUR SALON
Sizes:
100ml, 350ml and 1L
Actives:
Keratin and Amino Acids. Without Formaldehyde.
Indication:
Colored, bleached and chemically processed hair.
Action:
This treatment works by introducing and replenishing the capillary mass, internal reconstruction of the hair and nutrition. With the introduction of keratin, the capillary structure is transformed, remade and recovered, creating a new "artificial" smooth shape (hence the essential need for damaged hair and the use of a dryer and iron). With the entry of the many unique nutrients and active ingredients into the hair cortex, the treatment repairs, restructures and adds weight to the hair.
Result:
Recovered hair with a smooth effect, incredibly soft texture and no frizz.
Why is it better than the competition?
: The only Brazilian Blow Dry Treatment in Spain, which treats the hair in a spectacular way
without waiting time
or pause in the application, saving the time of the professional and the client. This treatment allows dyeing or bleaching on the same day of application. It does not alter the color of the hair.
Maintenance
: Use Export Home Care Shampoo, Conditioner and Hair Oil Elixir for better results.
Method of use:
1 PRODUCT THAT ALLOWS YOU TO OFFER 3 DIFFERENT SERVICES.
STEP 0 – Hair diagnosis
Recommended treatment to rebuild, eliminate frizz and straighten all types of chemically treated hair: straightened, dyed or bleached. Decide the service according to the result you want to obtain:
Blow Dry Express– Express Hair
Hair Repair– Deep Reconstruction
Smooth Effect– Smoothes and eliminates Frizz
STEP 1 – Deep Cleansing Shampoo
Wash the hair with the shampoo and leave it to act for 5 minutes (by the clock)
Rinse with plenty of water
Repeat this process 2 or 3 times minimum until the hair feels almost rough
Remove 80% of the moisture with a towel (do not use a dryer)
Tips for a perfect wash:
Do not rub the root too much
Massage the entire length of the hair
Give special attention to the part of the neck
STEP 2 – Keratin Treatment
Shake the treatment bottle vigorously (important)
Put on gloves, take bowl and stirrer
Put the amount to be used in the bowl, the measure will depend on the service:

Blow Dry Express: 10-15g
Hair Repair: 30-50g
Smooth Effect: 30-50g

On damp hair, make 4 partitions
In each partition, divide into thin strands
Apply the treatment with the brush
Start with the highlights at the nape of the neck, 1cm from the roots
Use enough product to cover the wick
Pass a fine comb to remove excess
Let the treatment act depending on the service:

Blow Dry Express: 0 minutes
Hair Repair: 10 minutes
Smooth Effect: 30 minutes

Do not rinse and untangle the hair
Make 4 partitions and divide into very fine strands
Take brush and dryer with cold or lukewarm air (not hot)
Blow-dry starting at the nape of the neck until 100% dry and well-aligned hair
is obtained.
Prepare the iron between 180-230º depending on the resistance of the hair
Make 4 partitions and divide into very fine strands
Pass the flat iron 7-10 times per strand starting at the nape of the neck
In very damaged tips, reduce the number of passes
In the case of the Blow Dry Express service, the process has already finished
STEP 3 – Finishing Mask
Wait until the hair is cold
Take a water vaporizer spray and spray the hair until it is damp
Apply the mask and massage the entire length of the hair.
Let the treatment act depending on the service:

Hair Repair: 10 minutes
Smooth Effect: 5 minutes

Rinse hair with water only
Blow dry line side down
Hair will be smooth without the need for a brush
Optional to pass the iron to polish more if the client so wishes
Finish with a few drops of Export Hair Oil on the ends
TIPS – Latest Recommendations
It is possible to wash the hair on the same day with salt-free shampoo (Sodium Chloride)
It is recommended to wait 24-48h for better fixation of the treatment
For lasting effects use the Export Home Care line for home washing
Review and opinions