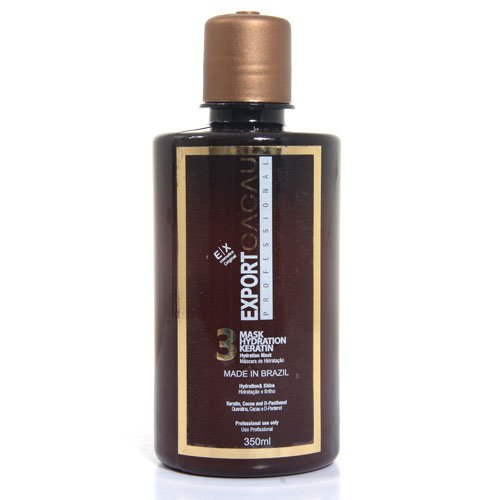 Finisher Mask Export Cacau 350ml
Product for perfect finish of a
absolute and shiny smooth
. Cacau Brazil Keratin restores the health of your hair and offers an incredible natural smoothing of radiant shine 100% safe and effective.
---
Reference: 0602883175020
Brand: Export Cacau
Availability:

Not Available Online
Indication
It can be used in all kinds of hair, including dyed, before smoothed or with bleached strands
In any case, the hair to be smoothed must be healthy and in its perfect conditions
If the hair is damaged, weak or with breakage, prefer to do a

keratin treatment span>

to strengthen it before smoothing
Active ingredients
Thermal Sealing : Promotes hair realignment and instant recovery. Treatment indicated for an extremely damaged hair.
Cocoa: Antioxidant, protects hair color and preserves shine. Powerful moisturizing properties, vitamins and minerals that together are able to leave hair healthy.
Keratin: Leaves the hair shiny and strong.
Acetic Acid: totally safe for the professional and for the client b>. Promotes smooth effects for longer.
Action
Prolongs the natural smooth effect of hair and provides softness and shine.
Result
Long smooth effect
Intense shine and softness
Healthy and treated hair
Method of use
Perform the diagnosis of the hair to the client
It is recommended to do a strand and allergy test
Step 1: Apply the Cacau Export Shampoo and massage gently. Leave for 5 minutes. Rinse. Repeat if necessary. Dry 80% of the hair with a hair dryer.
Step 2:

Separate the hair into 6 equal parts and start the application of Brazilian Thermo Keratin, only at the base of the two back wicks, individually.
Open the wick in the middle and pass the product from the top to the bottom. Spread the product in full length of the wick with the help of a fine comb.
At every two strands applied, dry with cold air from the hair dryer. Repeat the process in each division.
Divide the hair into four parts and pass the iron 7 to 10 times in fine wicks.

Step 3: Rinse and apply Finish Mask Hydration, leaving on for 3 to 6 minutes and rinse again and dry for finish.
Composition
Aqua, propylene glycol, gycerin, cetearyl alcohol, cyclopentasiloxane, dimethicone, cetrimonium chloride, cetyl lactate, citric acid, hydrolyzed keratin, theobroma cacao seed butter, phenoxyethanol, parfum (limonene, cinnamal, eugenol).
More information
Follow the full instructions of method of use and always do the strand test.
It is recommended
used a profesional iron for this type of treatment,
with titanium plates and temperature regulator.
Review y opiniones