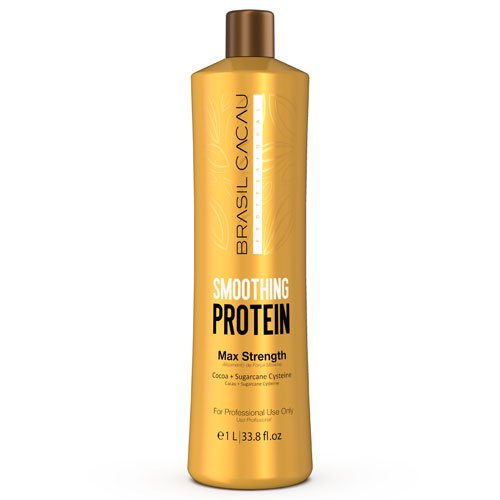 Brazilian straightening Cadiveu Brasil Cacau Smoothing Protein keratin 1L
Brazilian Smoothing Protein Keratin is the new treatmente of Brasil Cacau, with a softer ECO formula free of formaldehyde.
This brand has a lot of demand by hairstylists and famous actresses in the Brazil, USA, Europe and Australia. Brasil Cacau is present in more than 30 countries and his expansion owes to the highest performance that this treatments offers since 2006, with a success without precedents by being the pioneer in produce a smoothing treatment without chemical ingredients.
---
Reference: 7898606741587
Brand: Cadiveu
Availability:

Unavailable
---
Brasil Cacau keratin is perfect to restore the hair health and to obtain an incredible smooth effect and radiant shine. The differences of Brasil Cacau smoothing treatment:
Hair can be washed and brushed the same day, without waiting
Hair seems natural and healthy, thanks to an exclusive method of application
Surprising result: 30% of major penetration, restoring elasticity, major profitability, due to his rapid and easy application and minor costs for application
Application without perfume or smoke, which guarantees comfort to the clients and to the professional of the lounge
It can be applied after any chemical process
We recommend to wait two days to do other treatments
Indication
It can be used in all kinds of hair, even dyed, before smoothed or with bleached strands
In any case, the hair to be smoothed must be healthy and in its perfect conditions
If the hair is damaged, weak or with breakage, prefer to do a keratin treatment to strengthen it before smoothing
Active ingredients
It is an exclusive and differentiated treatment for the intense restoration of hair with formula based on:
Cocoa butter with has oily essential acids, with nourishing, moisturizing and antioxidant properties
Hydrolized keratina, protein that wraps the hair more resistant and elastic
D-pantenol, which it treats and hydrates deeply
Pro-vitamin B5, it is an important nutrient in the subsistence of the health of the hair
Action
The acid pH of Brazilian Cacau Keratin and the heat produced by the straightening iron set the ingredients in the hair. This action realigns the hair cuticles, making them even smoother in surface to reflect light and give them a radiant glow. The treatment result is attributed to the action of the acid pH on the cuticles, therefore the treatment does not modify the internal estructure of the hair strands.
Results
Anti-frizz, radiant glow, restored health and hair smooth and moisture resistant hair for six months
Presentation
Bottle of resistant plastic and capacity of 1L.
Directions
Proceed the strand test to see if there is any allergy to the product formula
If strand is ok, proceed to apply the treatment
Wash the hair with the anti-residue shampoo (step 1) of same brand, massage to lather, leave on for 5 minutes and then rinse it out
In virgin or resistant hair, repeat the process
Use a hair dryer to dry the hair about 80% hair
Separate the hair and divide it into 6 equal parts, with clips
Place 20 to 40ml of this product (step 2) in a container and put on the silicone gloves
Attach a entire wick near the neck
With a brush, apply the product across the base of this section, near the roots.
With a very fine comb, comb all the wick from root to tip, and verify that the product is in all wick hair, do not saturate
Proceed to combing each strand from root to tip, with a fine comb and let it on for 20 minutes
Repeat the same procedure on the other side of the wick
Use the dryer with cold air, and without brushing, thoroughly dry the two strands of hair
It is importante to dry only two strands at a time, to ensure comfort to the professional and the client, as this will prevent smoke and the gases will be minimized
Repeat the procedure in the two central and the two front sections
Dry the backward sections, preventing hair from contacting the clients face
Iron the hair and depending on the hair type:

Blond damaged Hair: temperature up to 200° C (390° F)
Normal / resistant hair: temperature up to 230° C (450° F)

Take only thin wicks and iron it from the root to the middle of its length: 10 times (200ºC - 390º F) or 6 times (230ºC - 450º F)
To have a natural healthy looking tips, iron them only 6 times (200º C - 390º F) or 3 times (230º C - 450º F)
Repeat the procedure always ironing thin slivers along the hair
Use the iron always forming an angle of 90 degrees perpendicular to the scalp to get a smooth result from the hair root
For download instructions click here:
Frequency of use
It can be re-applied in 45 days from last application.
Ingredients
Aqua (water), Glyoxylic Acid, Carbocysteine, Cyclopentasiloxane, Cetearyl Alcohol, Glyceryl Stearate, Orbignya oleifera Seed Oil, Bis (C13-15 Arkoxy) PG-Amodimethicone, Behentrimonium Chloride, C12-15 Alkyl Benzoate, Glycerin, PEG-40 Hydrogenated Castor Oil, Isopropyl Palmitate, PEG-40/PPG-8 Methylaminopropyl/ Hydroxypropyl Dimethicone Copolymer, Phenoxyethanol, Parfum (Fragrance), Linalool, Hexyl Cinnamal, Butylphenyl Methylpropional, Alpha-Isomethyl Ionone, Cetyl Alcohol, Stearyl Alcohol, Cetrimonium Chloride, Dipropylene Glycol, Lactic Acid, Polyquaternium-7, Propylene Glycol, Glycolic Acid, Theobroma Cacao (Cocoa) Seed Butter, Disodium EDTA, Saccharum officinarum Extract*, Panthenol, Polyquaternium 37, Propylene Glycol Dicaprylate/ Dicaprate, Behenyl Alcohol, Palmitic Acid, Cocos nucifera (Coconut) Oil, Stearic Acid, Sericin, Trideceth-6, Caprylyl Glycol, Hydroxyethyl Cetearamidopropyldimonium Chloride, Guar Hydroxypropyltrimonium Chloride, Cinnamal, Cysteine HCI*, Amyl Cinnamal, Hexyl Salicylate, Citronellol, Benzyl Salicylate. *Sugarcane Cysteine.
More info
Know more about
the benefits of a brazilian smoothing treatment in hair.
Note to professionals:
Product to be used by professionals only
Use 30ml-40ml of product for a bob hair
Treatment recommended lasts to 25 applications
Minimun price by service of 120? by application and maximun dependending on the target
A certified product by European Union
Review and opinion