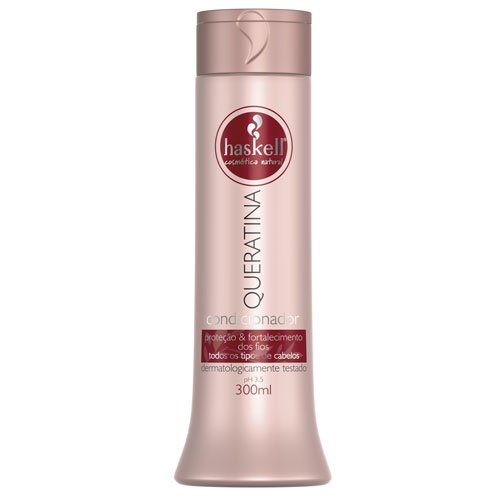 Conditioner Haskell Keratin protection & strenght 300ml
Welcome to the Haskell Natural Cosmetics universe! The
Keratin
range of Haskell is made up of 18 amino acids. Keratin is a protein whose function is to wrap the hair in a protective layer that protects it and gives it more strength and elasticity. This protein improves the shine and texture of the hair, increases water retention and prevents the formation of open ends.
---
Reference: 7898610371916
Brand: Haskell
Availability:

Available
---
The hydrolyzed keratin is the main active ingrediente of this range, it has a low molecular weight, which allows it to penetrate better into the hair fiber and replenish the capillary mass lost by chemical, mechanical or thermal processes and promotes regeneration capillary. In addition, this range contains Rosemary Oil, a natural extract that strengthens hair and has a high moisturizing power. Keratin products are suitable for all types of hair, but also serves to perfectly maintain the effects of keratin treatment or straightening. Products that fall in love!
Indication
All types of hair, but also serves to perfectly maintain the effects of keratin treatment or straightening.
Active ingredients
Do not contain salt (Sodium Chloride). Hydrolyzed keratin and Rosemary Oil.
Action
Improves hair's strength and elasticity
Provides hair regeneration
Repair double tips
Retains natural hair moisture for longer
Reover the lost capillary mass
Protects hair from mechanical, chemical and thermal damage
Results
Hair softer, shinier, more recovered and moisturized, with less open ends, with more resistence and elasticity.
Presentation
Resistant pot, ultra creamy texture, fine and elegant perfume, which stays in the hair. Capacity for 300ml.
Directions and frequency of use
Follow the instructions of a
hair conditioner.
Ingredients
Aqua (water), cetearyl alcohol, cetrimonium chloride, parfum,phenoxyethanol, disodium EDTA, methylparaben, etylparaben, butylparaben, imidazolidinyl urea, citric acid, benzyl salicylate, hydrolyzed keratin, hexyl cinnamal, butylphenyl methylpropional, propylparaben butylene glycol, ethylhexylglycerin, CI 18050, CI45100.
More info
This brand does not test its products in animals.
Review and opinion