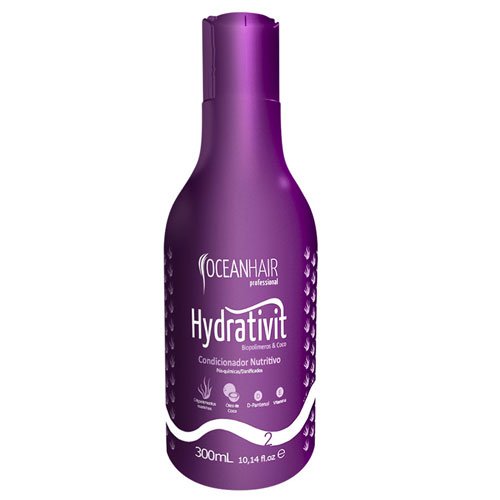 Conditioner Ocean Hair Hydrativit Nutritive 300ml
The professional products Hydrativit contains naturals assets of green Coconut Water, vitamins and algae, assets operate profoundly in the intern part of the head and replenish the natural keratin of the hair through the keratin treatment and the cauterization of the cuticles, eliminating rebels frizz, fortifying and making it shiny.
The conditioner provides softness and hydration of dry and damaged hair, facilitating the untangling. By using these ingredients, it provides a repairing and antioxidant action, giving rise to healthy hair with a 3D bright.
---
DAMAGED
THIN
---
Reference: 7898950179715
Brand: Ocean Hair
Availability:

Unavailable
The range Hydrativit is dedicated to hair severely damaged by chemical treatments, hair dryer and irons. This keratin treatment permits an intensive hydration, bringing a vitamin blend; proteins and amino acids who normalize the pH of the hair and operate profoundly in the capillary structure thanks to the technology development by the most advanced laboratories in Brazil, with the use of natural raw materials extracted of the amazon jungle's plants and natural areas uncontaminated. Results appears at the first application: the hair will be luminous and soft to the touch. Sales products only for professional use.
Indication:
All hair types, indicated specially for porous and damaged hair by chemical treatments.
Active ingredients
Coconut Water and coconut oil: rich in fatty acids, in addition to nourish and hydrate it reduces the frizz. Bringing bright and strengthening.
Vitamin E: mighty antioxidant factor and conditioning for shining, softness and silkiness of the hair.
Nano keratin: forms a protective coating, increases flexibility, elasticity and hydration of the hair.
Marine algae: rich in polysaccharides, naturals vitamins, amino acids and oligo elements. Operate as a natural moisturizing
Silk amino acids: reduces the hair's porosity, prolonging the hydration effect and the flexibility.
Polyquaternium-55: create a shiny coating and a thermic protection, control the frizz and facilitating the untangling.
The range Hydrativit is salt-free (Sodium Chloride)
Acción
Provides restauration and protection to the hair, reduces porosity and increases resistance against external aggressions and chemical treatments.
Results
Hydrated hair, with movement and without frizz, shiny and healthy hair as you've never felt them before!
Presentation
Plastic bottle with a capacity of 300ml. creamy texture and mildly perfumed odor.
Directions and frequency of use
Follow the instructions of a
hair conditioner.
Ingredients
Agua, alcohol cetearly, alcohol miristilo, glicerina, alcohol cetílico, parafinio, liquidio, cloruro de behentrimonio, amodimenthicona, C12-14 SEC-pareth-7, C-12-14 acetato, ceteareth-20, CI 42090, panthenol, EDTA disódico, ácidos cítricos, benzotriazolil dodecil P-ccresol, octadecil di-T-butil-4-hidroxidrocinamato, extracto de hiena musciforme, extracto de gelidiella acerosa, agua de cocos nucifera, metilcloroisotiazolinona/methylosiathiazolinone, linalool.
More info
This brand does not test its products in animals.
Review and opinion