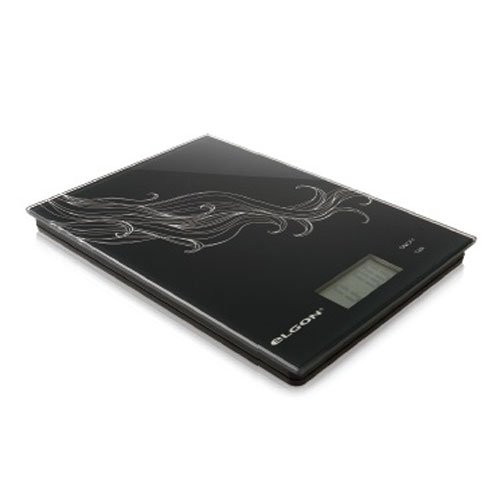 Electronic scale Elgon Tools for dye 14x20cm
This Elgon digital scale with an elegant design is perfect for calculating the weight of any product for use in the living room. The weighing unit is 1g and weighs up to 5kg of product.
Elgon hairdressing accessories are designed for the needs of the most sophisticated and detailed stylists.
---
Reference: 5400340002
Brand: Elgon
Availability:

Last units
---
Presentation
The balance comes in a box with a brochure that contains instructions for its correct use and care. It is black, with an elegant and practical design.
Method of Use
Remove the battery cover located on the device.
Insert two CR2032 button batteries. If they are already present make sure you have removed the protective plastic tab. Check that the batteries are inserted correctly. If the batteries are inserted the wrong way, the device may be damaged. See the diagram on the battery cover.
Put the lid back on
Use
Place the balance on a flat surface (the sensors on the rubber feet only work if they are supported properly).
Turn on the device by pressing the ON / OFF button, wait for 0.0 to appear on the display.
Place the bowl on the weighing pan. If desired, record the weight before proceeding.
Press the "ON / OFF / TARE" button to reset the weight. Even leaving the bowl on the scale, the display will go to zero.
Add the product you want to weigh to the bowl (cream, dye, bleaching powder ...) and read the weight once the display has stabilized. The weight displayed will be that of the product added after using the TARE function.
The device turns off automatically after a few seconds of inactivity.
Safety Mesures
Using the device incorrectly could damage it, use it only for its intended purpose. Neither the manufacturer, nor Elgon, nor Brasil & Belleza are responsible for damages derived from incorrect handling.
Do not place the balance on an uneven surface.
Do not place or store near an intense heat source or in a humid environment.
Do not immerse it in water and avoid getting it wet.
Remove the batteries from the device if you are not going to use it for long periods of time.
Do not try to weigh objects or products that exceed 5kg, if so, a message "Err" or "O-LD" will appear on the display indicating the overload.
Cleaning
Always clean with a clean, damp cloth, do not use scouring pads or immerse the device in water.
If the scale is very dirty, add a little detergent to the cloth, never strong solvents or abrasives.
Before using the balance again, dry thoroughly.
More Information
Carefully read the instructions found inside the box.