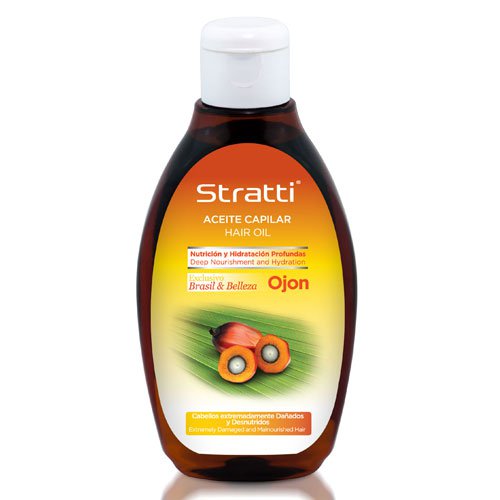 Hair oil Stratti Ojon & Keratin 150ml
Inside the forests of Central America there is a tribe called Tawira, known as people with beautiful hair, over more than 500 years found a precious oil extracted from the nuts of a native palm: Ojon oil. Known as the golden elixir of nature, Ojon oil is rich in antioxidants, amino acids and essential lipids with properties resembling those of the hair itself. This oil, called magic, acts as a true natural remedy promoting a restoration of high impact from the damage caused by the summer, brushing and dying. Transforming it instantly into healthy and full of life.
---
DAMAGED
THIN
---
Reference: 5600450609850
Brand: Stratti
Availability:

Available
---
Brasil & Belleza has been the pioneer
in bringing capillary treatments with Ojon to Spain, and due to the large number of requests and requests, we have developed, in collaboration with the Stratti brand, a
Exclusive Premium Line of Brasil & Belleza
, which uses pure Hydrolyzed Keratin and the purest Ojon Oil to recover
hair badly damaged by chemicals or heat appliances
such as drying and ironing.
Created, tested and approved by specialists,
this new treatment will change your hair and your life, for the better!
Indication
Suitable for all hair types, especially for people that use chemicals or abuse of hairdryers, irons or dyes.
Active ingredients
Product with the hydrolized keratin and the purest ojon oil, erich in lipids, this oil is fantastic and much more efficient than other types of hair oils, providing softness, health and shine. This product does not contain salt (Sodium Chloride).
Action
It works like a real natural medicine promoting a high impact restoration against hair damage, completely reversing the damage and promoting a strong anti-frizz action.
Results
Revitalized, scented, loose and very clean hair.
Presentation
Plastic bottle with 100ml of product. Delicious tropical perfume that stays on the hair. Valid for 12 months after opening.
Directions and frequency of use
Follow the instructions of a

hair oil

To make a Premium Hair Restoration Treatment:

Apply the Stratti ojon salt-free shampoo
Mix 1 portion of the Stratti ojon mask a ta or with 15-25 drops Stratti ojon oil serum
Apply on hair and leave it on for 10 minuts with

termal cap

Rinse it out
Apply a little bit of the Stratti ojon conditioner to seal treatment inside hair
Proceed to brushing with hair dryer
If you want a straight effect, proceed to use the iron by fine strands
Finalize with a little bit of the for an extra shine and a perfect hair!
Frequency of use
repeat once/week on very dry or damaged hair
repeat every once/month on already recovered hair
for perfect results, make the correctly maintenance:

wash hair with the Stratti ojon salt-free shampoo for 2 minutes and rinse
use the Stratti ojon mask to moisturize hair
let it act for 3 minutes and rinse
on wet hair, apply a little bit of the Stratti ojon oditioner to seal cuticles and to seal the mask treatment inside hair
In dry hair, use daily a little bit of the Stratti ojon oil serum for an extra shine and a perfect hair!
Ingredients
Brassica, Campestri Seed Oil, Elaeis Guineensis Oil, BHT, CI 4700, CI 26100, Parfum.
More info
Product of the
Exclusive Premium line of Brasil & Belleza,
created and developed exclusively by us and distributed only by official distributors in Spain.This brand does not test its products in animals.
Review and opinion
Ver Review Manoli Mañas
Ver Review Dietogades