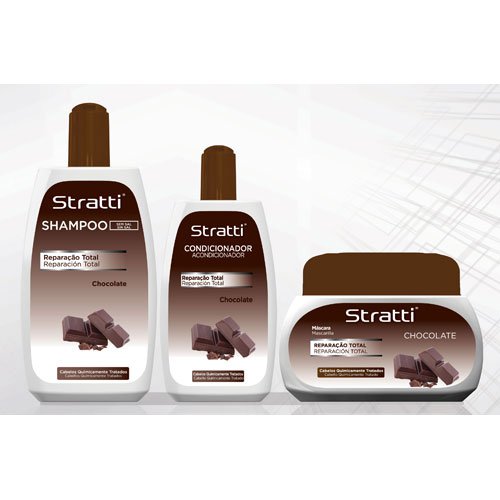 Maintenance pack Stratti Chocolate 3 products
This Pack includes in the price 10% discount respect to products separately.
Brightness and protection with fancy chocolate proteins!
---
Availability:

Available

Reference: PCKM145
Brand: Stratti
---
The Chocolate and Keratin is a salt-free range of Stratti is ideal for colored hair, dull or dry. Contains UV filter, avocado oil, shea butter and cocoa providing to hair an effective hydration, repairing and providing instant shine.
The Maintenance Pack - Stratti Chocolate and Keratin 4 Products:
Shampoo 400ml
Conditioner 300ml
Moisturizing Mask 550gr
Directions:
Apply the shampoo on wet hair and gently work it through the strands. Rinse it out.
Apply the moisturizing mask and leave it on for 2 minutes and then rinse it out.
Rub a small amount of the leave-in cream between the palms and apply evenly, working it through the hair from the middle to the ends. Apply to either damp or dry hair. Comb as usual.
*The mask can also be used for intensive moisturizing 2 to 3 times a week. For an intensive moisturizing, apply the mask on already washed, wet hair, working it through the length of the hair, strand by strand. Put a thermal cap and leave it on for 10 minutes. Rinse it out. >/ol>Results :
hair hydrated, repaired, protected and durable gloss.

Review and opinion