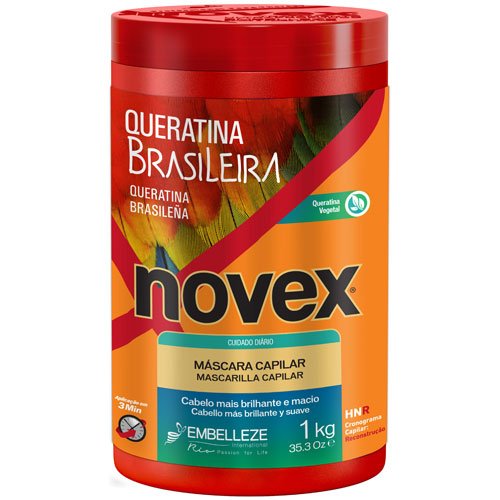 Mask Novex Keratin Brazilian 1Kg
Do you want to bring your hair back to life? This is an extra deep moisturizing hair cream that brings a new life to your hair. It is a product with high density product, rich in vitamins, high concentration and excellent throughput. Product for professional use,
tested and approved by hairstylists
worldwide.
Novex masks were developed with a formula to penetrate deep into the hair fiber. Novex is among the leading brands in Brazil being reference in the treatment category.
---
FRIZZ
DAMAGED
---
Reference: 876120002633
Brand: Embelleze
Availability:

Available
---
Indication
It is recommended for very damaged or brittle hair.
Active ingredients
With vitamin E and hydrolyzed keratin, with high nutrition power and pH 3.4 that penetrate in hair structure efficiently.
Action
With innovative and concentrated technology that act in only 3 minutes from root to tips and ultra-deep action that only masks from this brand have. It has no straightening power, it is about a mask that moisturizes and recover the capillary fiber. Novex is the food that your hair needs to be perfect.
Results
The result of this ultra-deep action on treated hair, healthy, soft and perfumed like never. Your hair will be more shiny, smoother and more perfumed!
Presentation
Resistant plastic pot with 1000g of product. It serves up to 42 applications and has a validity of 12 months after opening.
Directions and frequency of use
Follow the instructions of a hair mask. For an express treatment, apply the product on wet hair, leave it on for 3 minutes then rinse it out.
To do a deep hydration, follow instructions of use of a capillary mask.
To do the professional treatment of cauterization or Brazilian keratin:
Wash the hair with the Novex Brazilian Queratina shampoo 300ml
Apply a measure of the keratin load 80g or of the liquid Keratin Novex Max Keratin 250ml
Stop acting for 5 minutes with a thermal cap
Without clarifying, apply Novex Brazilian keratin Mask in the whole hair
Stop acting for 15 more minutes with the thermal cap
Clarify with enough water to eliminate the excess of the treatment
Apply Immediately keratin load Noxex capillary armor
Do a brushing with a brush
Straighten with plate to seal cuticles
When the hair are completely dry, finish with a repairer of tops only on the tops
Do not wash your hair the 2 days following the treatment
Repeat the process:
1 º month: 1x/week
2 º month: every 15 days
3 º month: 1x/month
Composition
Aqua, Cetearyl Alcohol, Petrolatum, Hydrolyzed Keratin, Zea Mays Starch, Cetrimonium Chloride, Parfum, Phenyl Trimethicone, Methylparaben, Propylparaben, Lactic Acid, Tocopheryl Acetate, Methylisothiazolinone, Methylchloroisothiazolinone.
More info
This brand does not test its product on animals.
Review and opinion
Reparación total del Cabello Opinión Patry Jordan
Cabello Bonito de Boda Bodas.Net
Resultado de Reparación Cabello Afro
Cómo hacer una Cauterización en Casa
Novex queratina Brillo y Reparación