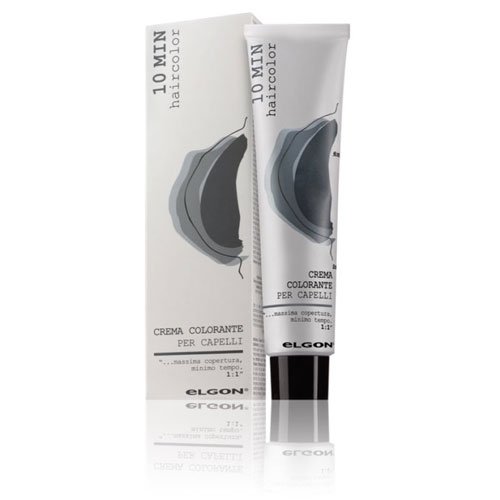 Hair dye Elgon 10 minutes 4CHO Brown Chocolate 60ml
10 MIN
is the permanent cosmetic cream color that guarantees maximum coverage and shine in the shortest time
reducing the execution time of the color service by 70%!
10 MIN is designed for hairdressers who want to satisfy even clients who do not have the necessary time for color service and obtain a technical service of
impeccable quality.
---
Reference: 8053264511333
Brand: Elgon
Availability:

Last units
---
Indication
For all hair types, including straightened, chemically smoothed, permed, with henna, guanidine, ammonia thioglycollate or other transformation treatments. But you must wait 15 days after any transformation to apply the dye.
Ideal for those who want to cover gray hair and regrowth.
Ideal for those who are sensitive to the annoyances of itching caused by coloring, since the contact time with the product is reduced.
Active ingredients
Keratin: increases the resistance of the fiber during the fast coloring process.
Dyes with high penetration speed: in particular it is a special polymer that facilitates the penetration of color into the hair, favoring adherence to the fiber and its maintenance.
Texture of the cream: its special consistency ensures a perfect and stable adherence to the hair during the entire exposure time.
Low ammonia content: allows to obtain a greater luminosity reducing the degree of sensitive reaction of the hair during the color application.
Formula without parabens.
Action
Express permanent coloring.
Full coverage without damaging.
Long-lasting, brilliant color services.
Clarification of tones and measurements:
The ratio is 1: 1, that is 60 ml of cosmetic coloring cream + 60 of oxicream of 20 volumes to obtain the maximum luminosity of the color. Its exposure time is 10 minutes. Strictly respect this time, as otherwise the desired shade may vary.
All 10 MIN shades can be mixed with each other, but they cannot be mixed with other standard coloring lines.
Results
Hair with a very natural color, soft, hydrated, very shiny and protected.
Presentation
Resistant metal tube, with a capacity of 60ml. Dense texture and mild smell.
Directions and frecuency of use
It is mandatory to mix the dye with an activator of the same brand
It is recommended to apply with a plastic bowl, trowel, clips or tweezers to separate wet sections, towel or plastic cover to protect the shoulders and not to soil or stain the clothes
It is optional but also advisable to use a plex treatment before dyeing or a hydrating mask after dyeing
Watch the clock to control the action time
For the application, carefully follow the instructions for use of the dye without ammonia
Composition
Aqua (water/eau), cetearyl alcohol, ceteareth-30, ammonium hydroxide, propylene glycol, glyceryl stearate, paraffin, p-phenylenidiamine, polyquaternium-22, resorcinol, cetyl palmitate, m-aminophenol, sodium sulfite, ascorbic acid, sodium hydrosulfite, parfum (fragrance), cocamidopropyl betaine, tetrasodium edta, polyglyceryl-4 caprate, acrylamidopropyltrimonium chloride/acrylates copolymer, 2-amino-4-hydroxyethylaminoanisole sulfate, oleth-5 phosphate, caramel, glycerin, dioleyl posphate, polyglyceryl-3 ricinoleate, camellia japonica seed oil, phenoxyethanol, echinacea angustifolia root extract, sodium benzoate, postassium sorbate.
More information
Wide color chart, interested
request information
and a specialized salesperson will contact you.