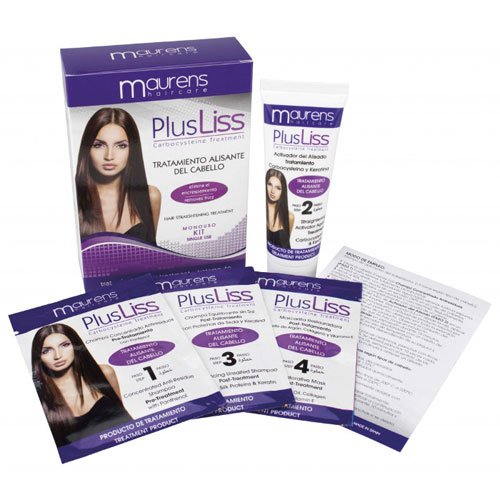 Progressive straightening kit Maurens PlusLiss 120ml
It is a capillary treatment based on Carbocisteine and Keratin allowing a temporary change in the hair structure. Achieve your dream of having straight hair without resorting to techniques that damage the hair structure. There is a loss of vigor in the capillary fiber when keratin, the main protein making up the hair, loses its protective and regenerative function on coming under attack by traditional and aggressive straightening treatments based on formaldehyde, thioglycolate and hydroxides.
---
Availability:

Unavailable

Brand: Maurens
---
Indication
It is a treatment that can be applied to any hair type.
Action
It gives a natural straightening finish.
Completely safe.
Compatible with any previous straightening, colouring, uncurling treatment?etc. .
It allows you to wave your hair or style it as you wish.
After the treatment, just wash your hair in order to enjoy the straightening effect, without hairdryer. .
You will gain over half an hour every morning.
Results
Control of volume and reduction of frizz.
Straight hair easy to style.
Bright and natural appearance.
Directions:
Wash hair twice with concentrated anti-residue shampoo until all impurities have been removed.
Rinse hair with plenty of water until all foam has gone.
Dry the hair to 90% with the aid of a hairdryer (50% in the case of damage, sensitive, discolored hair or hair with highlights). Then, untangle the hair completely using a comb.
Pour the contents of the straightening activator agent into a bowl. Divide the hair into 4 parts. Leaving 0.5 cm from the roots, use a brush to apply a small amount of the product, lock by lock. Use a fine comb to spread the product all over the hair and remove any excess. Check to make sure that the product has been applied to all areas.
Leave the straightening activator agent on and exposed for 15 minutes .
Then hairdryer using a palette brush. Avoid excessively high temperatures.
Divide the hair 4 or more parts depending on its length and volume.
Using ceramic hair straighteners straighten by applying firm pressure and pull to each lock. Each lock must be straightened 10 times using quick and rhythmical strokes, from roots to tips in order to seal the cuticle properly and obtain perfectly straight hair.
In sensitive, discolored hair or hair with highlights, do not exceed 170 C.
In fine, dyed or chemically treated hair from 180C to 200C.
In normal, healthy or fine Afro-style hair, from 200C to 220C.
In thick Afro-style and untreated, at 230C.
Leave the hair cooling down for 10 minutes and then rinse with abundant lukewarm water.
Apply balancing unsalted shampoo and rinse thoroughly.
Remove excess water with a towel and then apply the restorative mask. Leave it on for 10 minutes and rinse to remove the mask completely.
Dry with a hairdryer and style the hair with the hair straighteners as you wish for perfectly straight hair.
To prolong the effect of the straightening process as long as possible, you must use the products indicated below and follow these instructions:
Wash the hair as usual and at usual time frames. Dry with hairdryer to 90%. The bottle allows for 22-25 washes.
Take a small amount and spread it all over the hair. DO NOT RINSE. Finish drying with the hairdryer and comb. The bottle allows for 22-25 applications.
More info
Know more about

Brazilian straightening and benefits for hair

.

Review and opinion