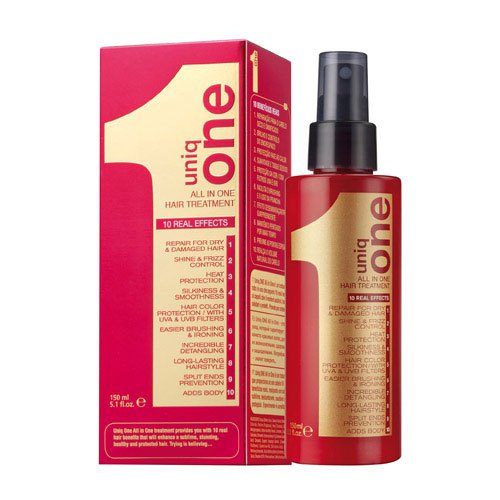 Serum Uniq One All in One hair treatment 10 real effects 150ml
---
Brand: Revlon
Availability:

Unavailable
---
¡10 Benefits to your hair in one product!
Benefits:
REPAIR FOR DRY & DAMAGED HAIR.
SHINE & FRIZZ CONTROL.
HEAT PROTECTION.
SILKINESS & SMOOTHNESS.
HAIR COLOR PROTECTION / WITH UVA & UVB FILTERS.
EASIER BRUSHING & IRONING.
INCREDIBLE DETANGLING.
LONG-LASTING HAIRSTYLE.
SPLIT ENDS PREVENTION.
ADDS BODY.
Ideal for:
Drier:Drying your hair is a moment?s work with uniqone! Just spray the product on the roots of the hair (previously dried with a towel) and comb it to spread evenly. Then use the drier at high temperature and with the help of a round brush. uniqone protects your hair from heat, strengthens it and adds shine. What is more, as uniqone does not add weight to the hair it is perfect for finer hair with no volume. For a look with more body, use uniqone combined with your favorite style product.
Curls: Curls have never looked better! Whether with hair dried with a blow drier or air-dried, uniqone controls frizz and highlights the curls, the shine and the natural beauty. Spray uniqone generously all over your hair after drying with a towel. Then apply your favorite curl-defining product and use the blow drier at low temperature until your hair is dry. To dry the hair in the air, apply uniqone the same way and mark the curl with the desired shape. Finish the style by spraying uniqone onto the palm of your hand. Apply to hair for a finish with soft, exquisite, pretty curls.
Iron: Are you ready to enjoy soft, silky hair? uniqone will do wonders for styling with an iron, especially thick, coarse hair. Simply apply uniqone to the base of the hair dried with a towel and comb it to spread the product evenly. Straighten hair with an iron at medium temperature, using a round or paddle brush. To end, spray uniqone onto the palm of your hand. Apply to hair for a soft, straight, shiny and long-lasting look!
Results:
83% of respondents who had problem hair said that uniqone made the styling easier.
100% of respondents who had coarse hair mentioned that uniqone left their hair softer and silkier.
93% of respondents who had hair that was difficult to detangle thought that uniqone helped them do so.
Directions:
ON DRY HAIR

APPLY ON PALM OF HAND
Rub product between hands and apply to hair from middle to ends.If necessary, touch up style with iron or drier.Use the usual finishing product.
SPRAYS ACCORDING TO HAIR LENGTH:

Long hair:4-6.
Medium hair:3-5.
Short hair:2-3

ON WET HAIR:

APPLY TO ABOUT 20 CM OF HAIR
Detangle hair with a comb.
Finish with the usual style: dry with drier, iron, air-dried, etc.
Use the usual finishing product.
SPRAYS ACCORDING TO HAIR LENGTH:

Long hair:10-15.
Medium hair:7-12.
Short hair:6-8

Ingredients:
Aqua (Water) (Eau), Cetearyl Alcohol, Behentrimonium Chloride, Parfum (Fragrance), Hexyl Cinnamal, Butylphenyl Methylpropional, Alpha-Isomethyl Ionone, Limonene, Linalool, Benzyl Salicylate, Citronellol, Hydroxyisohexyl 3-Cyclohexene Carboxaldehyde, Amyl Cinnamal, Isopropyl Alcohol, Cyclopentasiloxane, Panthenol, Quaternium-80, Silk Amino Acids, Ethylexyl Methoxycinnamate, Butyl Methoxydibenzoylmethane, Propylene Glycol, Disodium EDTA, Phenoxyethanol, Methylisothiazolinone.

Review y opiniones