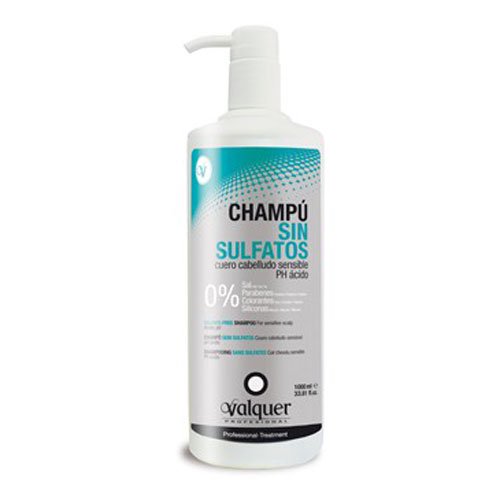 Shampoo Valquer Sulfate & Salt-free 1L
It is a shampoo especially developed to treat sensitive scalps. It is free of salt and sulphates, has acid pH and it contains natural keratin and vitamin E. It keeps hair healthy and does not produces irritations on the scalp.
---
Reference: 8420212270084
Brand: Valquer
Availability:

Unavailable
---
Indication
For all hair types.
Active ingredients
Soft formula with an acid pH
Do not contain: salt, sulphates, conservatives, parabens, silicons
Action
It formula with surfactants help to keep the natural balance of the skin. Containing active ingredients which get nutrients for a soft, hydrated and shiny hair.
Results
Clean hair, soft and shiny with a healthy appearance.
Presentation
Resistant plastic bottle, sweet smell, creamy texture, with a 1L capacity.
Directions and frequency of use
Follow the instructions of a
salt-free shampoo.
Ingredients
Aqua, Sodium Lauroyl Methyl Isethionate, Cocamidopropyl betaine, Parfum, trisodium Ethylenediamine Disuccinate, Polyquaternium-7, propylene Glycol, Stearyl Dhydroxypropyldimonium Oligosacchardires, Sodium benzoate, PEG-75 Lanolin, Distrearate, Sodium Laureth Sulfate, Citric Acid, Panthenol, Linalool, Cocamide Mea, Hydrolyzed keratin, Limonene, hexyl Cinnamal, Methylisothiazolinone, Iodopropynyl Butylcarbamate Gluconolactone, Sodium Laureth Sulfate, Citric Acid, Panthenol, Linalool, Cocamide Mea, Hydrolyzed Keratin, Limonene, Hexyl Cinnamal, Methylisothiazolinone, Lodopropynyl Butylcarbamate Gluconolactone, Sodium Hydroxide, Potassium Sorbate, Phenethyl Alcohol, Caprylyl Glycol, Calcium Gluconate, Methychloroisothiazolinone.
More info
This brand does not test its products in animals.