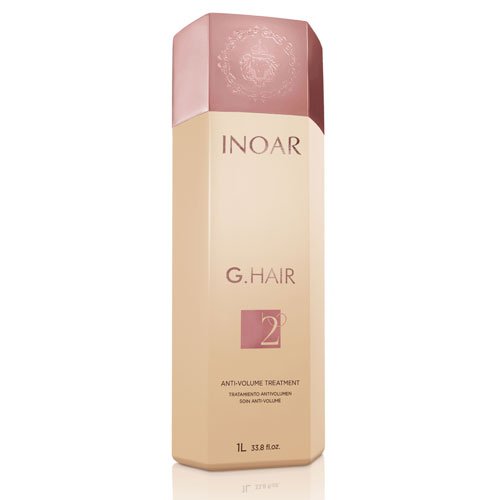 Straightening Inoar G-Hair with keratin 1L
---
Brand: Inoar
Availability:

Unavailable
---
Introduction :
finally a straightening treatment that works: powerful straightener and volume reducer for a very curly, thick and rebellious hair. The hair remains unchanged with humidity, docile and very shiny, growing stronger and moisturized for 4 months.
Product sold for professionals only
.
Indication :
straightens all types pf hair, including afro, chemically treated, highlighted or damaged.
Active ingredients :
Concentrated Keratin, Amino Acids and Vitamins.
Action :
easy application process that does not damage, effectively
straightens
, moisturizes, seals split ends, protects the hair from free radicals
Results :
with multi-benefits for the hair:
replenishes keratin
shine and strength
controlled volume
softness and moisture
natural movement
easy to comb
prolonged anti-frizz effect
protection from free radicals
sealed ends
decreases breakage by 90%
100% eliminates frizz and 90% straighter effect for 4 months.
Presentation :
1L bottle of resistant plastic.
Directions and info:
wash the hair with the deep cleansing shampoo, leaving it act for a few minutes
rinse it with plenty of water and repeat the process, if necessary
remove the excess water with a towel, completely blow-dry the hair and split it in 6-8 equal parts
apply the Brazilian straightening treatment like a dye, starting from the nape to the front with a brush and gloves
apply it all over the hair, 1cm from the roots
align the strands with a fine comb to remove excess and leave it on for 20 minutes (do not exceed exposure time)
during exposure time the hair must be straight, with no clips
without rinsing, dry 80% of the hair, alternating cold and hot air
split the hair in equal parts and use the iron 5-9 times in each strand at an appropriate temperature according to hair type:

blond, red, highlighted or bleached hair: 180ºC (356ºF)
brown, black or virgin hair: 210ºC (410ºF)
afro hair with no coloration: 230ºC (446ºF)
important the ironing must be done slowly and downstream.

finish and style as you wish.
Important: chemically treated hair:
highlighted: it is recommended to have the highlights made before the straightening treatment, because the highlights or discoloration open the hair cuticles and the treatment leaves easily.
coloration: it is recommended to dye the hair after the straightening treatment, because it can change a little the color tone, especially on hair dyed with colors between 4 and 5.
grey hair: it is essential to rinse out completely the 2nd step to avoid the yellowish tone. If this happens, you will have to neutralize the color.
Frequency of use: the treatment lasts up to 3 months and is mandatory to wait 45 days to reapply it.

Ingredients:
Aqua, Parfum, Cetearyl Alcohol, Glycerin, Polyquaternium-10, Cetrimonium Chloride, Behentrimonium Methosulfate/ Cetearyl Alcohol, Para_num Liquidum, Triticum Vulgare Protein/ Methicone / Polyquaternium 10/ Carboxymethyl Alanine/ Cysteine, Butyrospermum Parkii Shea Butter, Lanolin, Ceteareth-20, Hydrolized Keratin, BHT, Disodium EDTA, Formaldehyde 0,2%, Citric Acid, Methylchloroisothiazolinone / Methylisothiazolinone

More info: to know more about progressive straightening treatments

click here.



Review and opinion: to know more about Inoar visit the Blog of Brasil y Belleza.