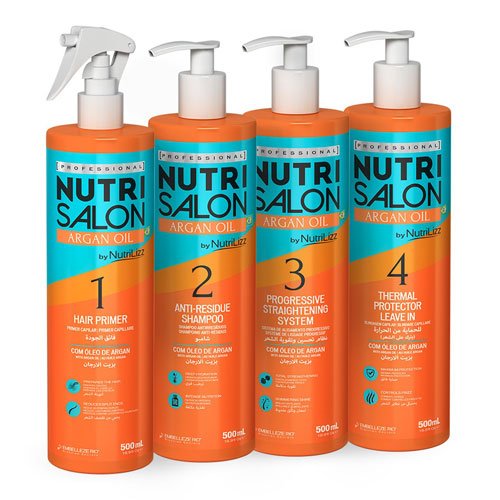 Treatment pack NutriSalon Argan Oil 4 products
This professional line based on the nourishing argan oil progressively reduces hair volume after each application, providing healthy hair, without frizz and with incredible hydration and shine.
---
Reference: PCKT040
Brand: Embelleze
Availability:

Unavailable
---
Sale price
This pack includes in the price 5% discount respect to products separately.
Content
1un NutriSalon Argan Primer 500ml
1un NutriSalon Argan anti-residue shampoo 500ml
1un NutriSalon Argan Straightening 500ml
1un NutriSalon Argan hair shield 500ml
Indication
All types of hair.
Active ingredients
Brazilian Keratin
Argan Oil
Action
Reduces volume and frizz and promotes nutrition and hydration of the hair fiber
Results
Soft, shiny, frizz-free and straight hair for longer.
Directions ATTENTION
:
Before applying the Nutrisalon 500ml Argan Oil Progressive Volume Reduction System, always perform a wick test.
Use of ammonium thioglycollate based products is not recommended after using this product.
Apply Prime throughout the hair extension and leave it on for 10 minutes. Clarify.
Wash two soaps with the anti-residue shampoo, leaving the second to act for 2 minutes before rinsing so that the next step penetrates the fiber better.
Divide the hair into 4 parts, apply with the help of a trowel over the entire length of the hair and pass a fine comb to remove excess product.
Once applied, leave it on for up to 30 minutes on fine hair, up to 40 minutes on medium hair and up to 50 minutes on thick hair.
Comb and pause for 5 more minutes and rinse
Apply the finisher and dry with a hairdryer and brush
Pass the iron a minimum of 10 times depending on the type and quality of the hair at a temperature between 200º and 230º
Frequency of use
The straightening can be repeated after 90 days.
Ingredients
See at the products tabs separately.
More info
The importance of using
products in pack.