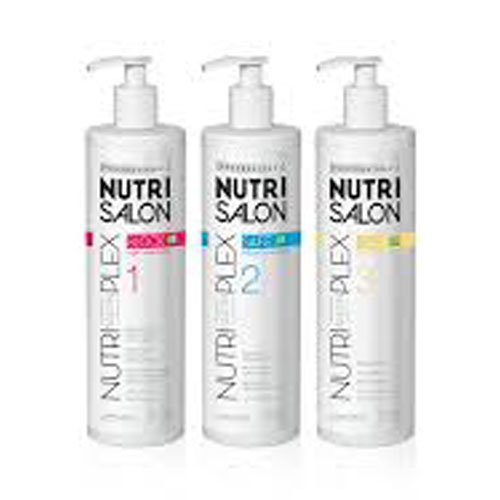 Treatment pack NutriSalon Plex 3 products
The NutrisalonPlex Protection System protects the integrity of the hair strands during chemical processes as varied as dyeing, bleaching, relaxation or straightening, among others. This treatment consists of three steps:
Nutrisalon Plex Block
Nutrisalon Plex Safe
Nutrisalon Plex Care
Nutrisalon Plex Care offers the hair supplemental protection that is activated by heat and this seals the cuticles, providing softness and shine.
---
Reference: PCKT042
Brand: Embelleze
Availability:

Last units
---
Sale price
This pack includes in the price 5% discount respect to products separately.
Content
1un NutriSalon Plex Care Treatment 500ml
1un NutriSalon Plex Safe Treatment 500ml
1un NutriSalon Plex Block Treatment 500ml
Indication
All types of hair that will go through a chemical process.
Active ingredients
Fibroforce: it is a cosmetic active, specially developed to strengthen chemically treated or originally fragile hair, which needs special care. Its fibroin-based protein structure adheres to the hair fiber, increases resistance and allows immediate improvement of the hair.
Phytokeratin: blend of proteins of vegetable origin, rich in amino acids similar to keratin, a source of important substances that provide strength and protection to the hair. Essential properties for health and hair care.
Sericeal: it is an active ingredient composed of cationic sericin nanoparticles, a protein that acts as a "cement", favoring the sealing of the cuticles and the replacement of the protein mass. Its high affinity for keratin keeps the strands aligned, soft and shiny. In the process of coloring the hair, it helps to improve conditioning and preserve it for longer. When used in straighteners, it supports the transformation process, improving styling and reducing frizz.
Trehalose: has the ability to bind to two water molecules, providing internal and external hydration to the hair. Prevents the degradation of fatty acids that promote unpleasant odors on the scalp.
Action
Reconstructs and strengthens hair that has gone through chemical processes, blocks it and protects it from the aggressions caused by these processes.
Results
Strong, healthy hair protected from chemical and natural attacks.
Directions
For discoloration
For every 60g of bleaching powder already mixed with the activator, add 15ml of Block
lotion Note : If the powder mixture is not the desired consistency, simply add more powder.
Lotion can delay discoloration. The professional can increase the volume and the time of oxidative action.
For color service
For every 60g of dye add 5ml of Block conditioning lotion, mix well and then add the activator.
Note : To avoid interferences in the final result, after mixing, replace the oxidant volume.
When it is recommended to use a 20 volume oxidant, replace it with one of 30, if recommended is to use a 30 volume oxidant, replace it with a 40 volume one, and so on.
For smoothing or volume reduction
For every 100 g of relaxing cream, add 10 ml of block lotion.
Note : By adding the product in chemical transformation processes, a subtle reduction in the effect of smoothing may occur. In this case, we indicate an increase in the exposure time of the product of up to 10 minutes maximum (testing the flexibility of the hair in that time).
After having done the bleaching, coloring, straightening treatment and after having applied step 1 of this treatment, lighten the hair. On damp hair, apply Nutrisalon Plex Safe, massaging the hair from roots to ends by strands. Leave on for 10 minutes and rinse.
After having done the bleaching, coloring, straightening treatment and after having applied step 2 of this treatment, lighten the hair. Apply a small amount of Nutrisalon Plex Care to damp hair. Dry with a brush and iron.
Frequency of use
The treatment can be repeated every 30 days.
Ingredients
See at the products tabs separately.
More info
The importance of using
products in pack.