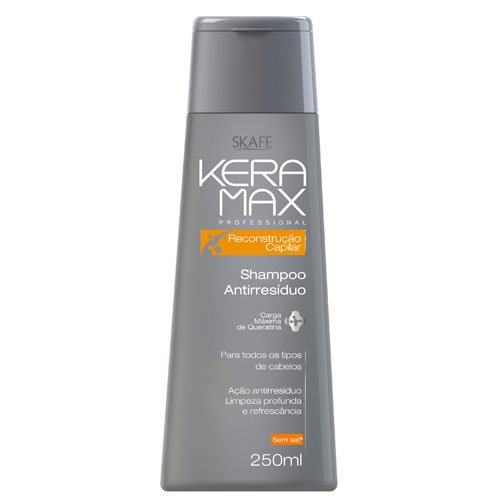 Anti-residue shampoo Keramax Reconstruction keratin 250ml
This is the Anti-Residue Shampoo provides a deep cleansing from root to tip, removing residues from previously used treatments. Its formula with a Maximum Keratin Load provides hydration, softness, freshness and deep cleansing to the hair fiber.
---
Reference: 7896229901630
Brand: Skafe
Availability:

Available
---
The Keramax Hair Reconstruction line is indicated for treating and recovering hair damaged by chemical processes.
Thanks to the combination of maximum load of
Hydrolized Keratin, Royal Jelly and Creatine
, it is possible to achieve a deep hair reconstruction from the inside to the outside, providing maximum hydration and an effect of softness and shine, eliminating frizz instantly!
Indication
All types of hair, but it is especially indicated for hair that is fragile, frizzy and damaged by chemical processes, such as straightening, dyeing, bleaching, etc.
Active ingredients
Royal Jelly: One of the richest substances found in nature. Its composition has more than 100 types of elements, vitamins, mineral salts and amino acids that provides strength, shine and rejuvenation of the hair.
Keratin: Protein that keeps hair soft, silky and shiny.
Creatine: Protein that stimulates the energetic metabolism of hair cells.
Action
Gently deep cleanses, removes accumulated residues in the hair fiber and scalp.
Results
Very shiny, healthy and loose hair, without frizz, with beautiful and natural movement.
Presentation
Resistant plastic canister with lid and precise closing. Liquid pearlescent texture and scented smell. Capacity for 250ml.
Directions
Follow the instructions of a
anti-residue shampoo.
Ingredients
Alanine, Arginine, Gycerin, Mel Extract, Pollen Extract, Polyquaternium-10, Propolis Extract, Cocoamphoacetate, Sodium Laureth Sulphate, Sodium PCA.
Salt-free
.
More info
This brand do not test in animal and has a environmental responsibility.
Review and opinion
Ver Review Make Up by Roroma