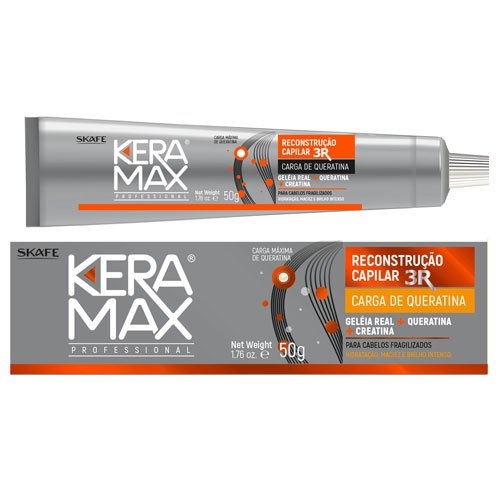 Keratin recharge Keramax Reconstruction 50g
The Keratin Recharge is a keratin treatment that hydrates and rejuvenates the hair, protecting it against drying caused by chemical agents, gives shine and controls frizz. It does the cauterization of the hair and sealing of the cuticles avoiding the action of external agents, facilitating the combing and brushing.
Your hair will remain extremely healthy, shiny and soft.
---
Reference: 7896229901685
Brand: Skafe
Availability:

Unavailable
---
The Keramax Hair Reconstruction line is indicated for treating and recovering hair damaged by chemical processes.
Thanks to the combination of maximum load of
Hydrolized Keratin, Royal Jelly and Creatine
, it is possible to achieve a deep hair reconstruction from the inside to the outside, providing maximum hydration and an effect of softness and shine, eliminating frizz instantly!
Indication
All types of hair, but it is especially indicated for hair that is fragile, frizzy and damaged by chemical processes, such as straightening, dyeing, bleaching, etc.
Active ingredients
Royal Jelly: One of the richest substances found in nature. Its composition has more than 100 types of elements, vitamins, mineral salts and amino acids that provides strength, shine and rejuvenation of the hair.
Keratin: Protein that keeps hair soft, silky and shiny.
Creatine: Protein that stimulates the energetic metabolism of hair cells.
Action
Keratin treatment that penetrates the hair fiber and provides a restoring and moisturizing action, acting directly on the damaged hair fiber, strengthening it and rejuvenating the hair in an efficient way.
Results
Very shiny, healthy and loose hair, without frizz, with beautiful and natural movement.
Presentation
Tube of ointment with 50g of product with a pleasant and soft smell. This treatment is suitable for approximately 4 to 6 applications on hair with half a mane and is valid for 12 months after opening.
Directions
Use as an Intensive Cauterization and Gentle Treatment:

Keratin is a heat-activated protein.
Wash hair with Shampoo.
On clean hair, apply the Keratin Recharge Loading treatment on the strands.
Wait 5 to 10 minutes with the thermal cap.
Rinse the hair and blow-dry at high temperature.
For a better result, finish with the iron by fine strands.

Use as a Daily Hydration or Combing Cream:

Keratin is present in all hair.
Replenishing keratin in the hair can only bring benefits.
Wash hair with Shampoo.
On clean hair, apply the Keratin Recharge Loading treatment on the strands.
Apply on the hair with a gentle massage for better absorption.
Let the hair air dry.
Frequency of use
It can be used as a serum or combing cream daily and whenever you want.
Its use as a Keratin Treatment should only be used:

1 to 3 times a week on very damaged or dry hair
Every 10 or 15 days, on hair already recovered in maintenance mode.
Ingredients
Behentrimonium Methosulfate, Cetearyl Alcohol, Paraffinum Liquidum, Trimethicone, Glyceryl Stearante, Creatine, Phenoxyethanol, Petroalatum, Guar Hydroxypropyltrimonium Chloride, Cyclotetrasiloxane, Magnesium Chloride, Royal Jelly Extract, Mel Extract, Propolis Extract Parfum.
More info
This brand do not test in animal and has a environmental responsibility.
Review and opinion
Ver Review Make Up by Roroma