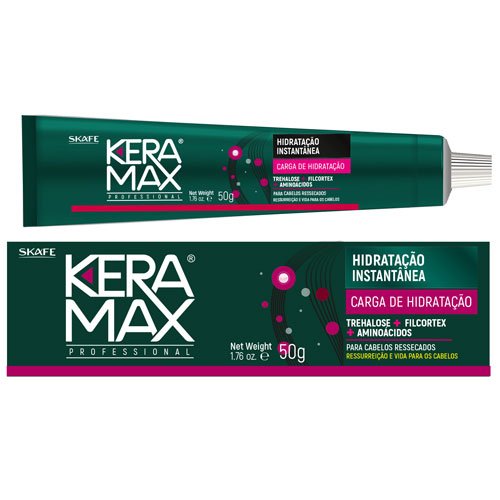 Keratin recharge ​Skafe Keramax Hydration 50g
Professional moisturize products at your fingertips! Keramax Hydration is a salt-free line that replenishes the hair minerals and natural proteins. It contains:
Absinthe Oil which provides high conditioning and softness to damaged hair, Keratin and Argan Oil
two excellent ingredients to restore the moisture of the hair fiber.
This product is imported by Brasil & Belleza with exclusive distribution in Spain and Portugal.
---
Reference: 7898658622643
Brand: Skafe
Availability:

Available
Indication
Dry, dehydrated and damaged hair.
Active ingredients
Keratin: protein that keeps hair soft, silky and with intense shine.
Argan Oil: fundamental protein for the nutrition and elasticity of the most rebellious hair rich in vitamin E, Omega 3 and Omega 6.
Absinthe Oil: active that restores flexibility to the hair and seals the cuticles providing much more shine.
This product does not contain salt (Sodium Chloride).
Action
Keratin treatment that penetrates the hair fiber and provides a restoring and moisturizing action, acting directly on the damaged hair fiber, strengthening it and rejuvenating the hair in an efficient way.
Results
Extra soft, silky, hydrated and very perfumed hair.
Presentation
Tube of ointment with 50g of product with a pleasant and soft smell. This treatment is suitable for approximately 4 to 6 applications on hair with half a mane and is valid for 12 months after opening.
Directions
Use as an INTENSIVE CAUTERIZATION TREATMENT:

Keratin is a heat-activated protein.
Wash hair with an antiresidue shampoo (prefer Keramax one).
On clean hair, apply this keratin treatment by strands.
Wait 5 to 10 minutes with a thermal cap.
Rinse the hair and blow-dry with a dryer at high temperature.
For better results, finish with iron by fine strands.

Use as a DAILY HYDRATION OR COMBING CREAM:

Keratin is present in all hair.
Replenishing hair with keratin can only bring benefits.
After washing hair, apply this keratin treatment by wet hair strands.
Apply the treatment all over the hair with a gentle massage for better absorption.
Let the hair dry naturally.
Frequency of use
It can be used as a serum or combing cream daily and whenever you want.
Its use as a Keratin Treatment should only be used:

1 to 3 times a week on very damaged or dry hair
Every 10 or 15 days, on hair already recovered in maintenance mode.
Ingredients
Aqua (Water), Argania Soinosa Kernel Oll, Behentrimonlum Methosulfate, Butylphenyl Methylpropional, Catearyl Alcohol, Cetrimonium Chloride, Citric Acid, Cyclopentasiloxane, Cyclotetrasiloxane, Diazolldnyl Urea, Dimethiconol, Glycerin, Glyceryl Stearate, Hexyl Cinnamal, Hydrolyzed Keratin, Iodopropynyl Butylcarbamate, Linalool, Paraffinum Liquidum, Parfum (Perfume), Phenoxyethanol, Phenyl Trimethicone, Polyquaternium-55, Sorbitol.
More info
This brand does not test its products in animals.
Review and opinion