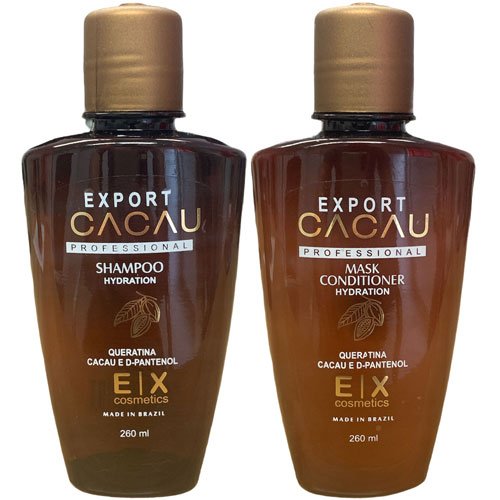 Maintenance kit Export Cacau Home Care 2x260ml
Prolongs the effects of your treatment.
Exclusive sale to accredited Salones and Estylists. Forbidden to sell online or at Tiendas. Without salt, with Keratin, for
smooth hair like never before seen and free of growth.
Interested
request price
and a specialized commercial will be in contact.
Import and Exclusive Distribution BrasilyBelleza in the European Union.
---
ALL
FRIZZ
DAMAGED
---
Reference: KIT020
Brand: Export Cacau
Availability:

Not Available Online
***** OFFERS A 5 STAR EXPERIENCE *****
* Blow dry treatment without waiting time
* Does not change the color, dye and locks same day
* For hair without shape, dyed, bleached and damaged
* Smooth result, no frizz, repaired and smooth melena
* The best treatment of the moment
YOU CAN LIST IN 1 HOUR!
BRAND THE DIFFERENCE IN TU SALON
Sizes:
2x350ml and 2x260ml.
Actives Ingredients:
Keratin and Amino Acids. No Formaldehyde.
Indication:
Hair dyed, bleached and chemically processed.
Result:
Recovered hair with smooth effect, incredibly smooth texture and no frizz.
Maintenance
: Use the Shampoo, Export Home Care Conditioner and Hair Oil Elixir for longer lasting results.
Reviews and opinions