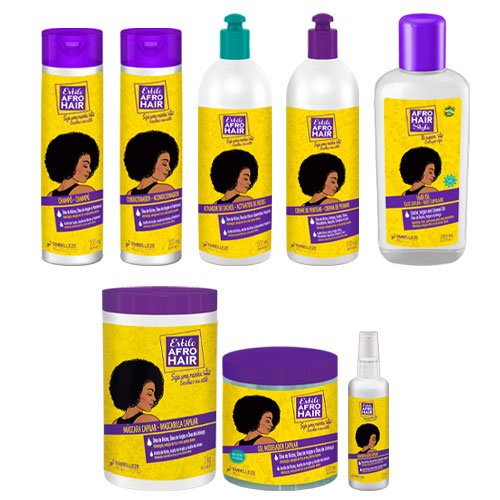 Maintenance pack Novex Afro Hair 8 products
The Novex Afro Hair range contains a blend of natural oils: castor, linseed and argan that together help combat dryness and dandruff on the scalp, restore shine and smoothness and help control frizz. Packed with nutrients like omega fatty acids, vitamins and antioxidants, the trio of oils work in harmony to soften, strengthen, and promote healthy growth. (Indicated for curls type 3C, 4A, AB and 4C)
---
AFRO
---
Reference: PCKM047
Brand: Embelleze
Availability:

Available
---
Sale price
This pack includes in the price a discount respect to products separately.
Content
Salt-free shampoo 300ml
Conditioner 300ml
Mask 1Kg
Leave-in 500g
Curls Activator 500ml
Hair Gel 500g
Hair Oil 200ml
Humidifier 300ml
Indication
All curly or wavy hair types, thin, thick, with volumen or not.
Active ingredients
Castor oil
Argan oil
Linseed oil
Do not contain salt or parabens
Action
Fight frizz
Care of all types of curls
Treated root-pointed hair
Loose and softer curls
Shine and hydrated curls
With natural movement and volume
Directions
Wash with the shampoo, massage gently until lathering.
Rinse and dry the moisture with a towel.
Apply a measure of the mask with a scoop in a bowl.
So we avoid contaminating the product with our fingers.
Leave on for 3 minutes or 30 minutes (in the weekly care ritual) with the thermal cap to provide heat.
Clarify.
Apply a measure of the conditioner to favor the closure of the cuticle, leave on for 2 minutes and rinse.
Apply a measure of the combing cream and proceed to comb the curl to define it.
Apply the activator on the styling cream to mark your curls.
Apply a little of the gelatin if you want a wet effect.
Air or blow dry
The
next day
and without washing your hair, apply a small amount to dry hair from the humidifier as a reminder to reactivate the curls.
Ingredients
See at the products tabs separately.