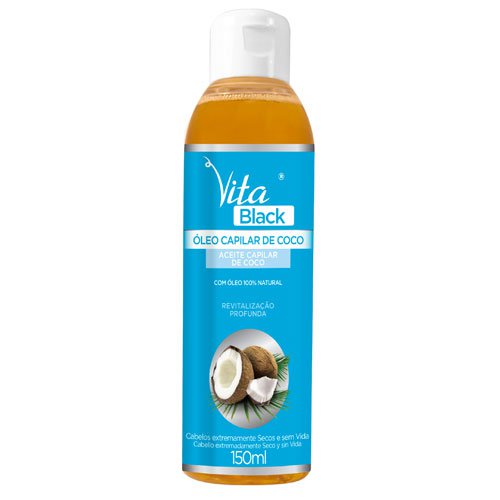 Serum Vitablack Coconut Oil Hair Oil deep revitalization 100% natural 150ml
The
Vitablack Coconut Hair Oil
is 100% natural and has moisturizing and nourishing properties, prevents dryness by protecting the hair fiber and provides vitality to the hair, giving it shine and softness.
---
Reference: 5600450606934
Brand: VitaBlack
Availability:

Unavailable
Do you have extremely dry and lifeless hair?
Coconut Vitablack Hair Oil is one of the most effective treatments for a wide variety of hair applications. Many people claim that Virgin Coconut Oil works better than any artificial treatment available on the market because it is 100% natural, it does not have silicones, alcohols or other chemicals that can aggravate the sensitivity of the hair. Coconut Oil works incredibly well repairing damaged hair, either by heat or by any other procedure, dry hair or any other hair related problem. Coconut Oil is also, in a natural way, a fungicidal agent, which immediately makes it an ideal anti-dandruff treatment, both to eliminate it and to prevent it, maintaining radiant hair with a healthy scalp when used regularly in the care of our hair, one to four times a month.
Indication
Extremely dry, lifeless hair and acts to prevent dandruff.
Active ingredients
With coconut oil.
Action
Hydration, shine and repairs dryness.
Results
Hydrated, shiny and silky hair.
Presentation
Resistant plastic bottle with practical dispenser. Liquid texture and easily absorbed, coconut smell and capacity for 150ml.
Directions and frequency of use
We can use coconut oil in different ways. It can be before or after washing, achieving different results:
As a finisher: After styling, apply 2 to 5 drops on the palm of the hand and space from medium to ends as indicated it was a serum. With that, we leave the ends protected, the hair with shine, the frizz controlled and the hair protected from humidity. Daily use
Coloring: After preparing the coloring, add a teaspoon of Vitablack Coconut Hair Oil. Mix and apply to hair. The hair will be protected against drying out of the dye. The colors will be more vivid and the hair more silky. Use every time you are going to color the hair
Hydration: In a container place 30 ml of mask or more depending on the volume and dryness of the hair. Add 2 teaspoons of Coconut Hair Oil. Mix and apply to damp hair. Leave it to act for 30 minutes wrapped in a thermal cap.
Regain moisture in the hair: When hair is very dry or damaged by chemicals, it is necessary to regain its moisture. It is best to use the pure Oil on dry hair, soaking it as much as possible. Let it rest on the hair for a minimum of 6 hours. Wash and condition as usual
Its frequency of use is:

Normal hair: 1 time a month
Dry or damaged hair : 2 times a month
Chemically treated and very dry hair: 1 time a week.
Follow the instructions of a
hair oil
.
Ingredients
Brassica Campestris Seed Oil, Cocos Nucifera Oil, BHT, Parfum, Coumarin.
More info:
This brand does not test its products in animals.
Review and opinion
Ver Review Brasil & Belleza