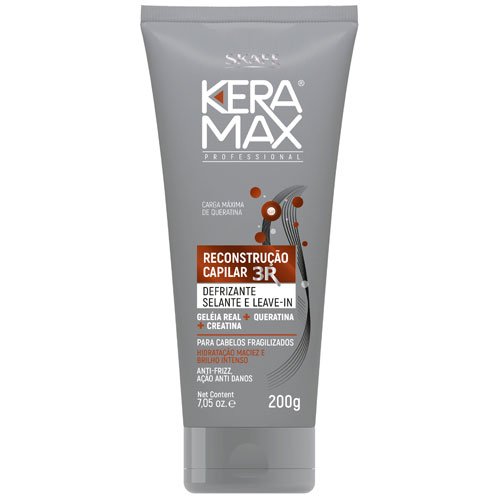 Serum Skafe Keramax Reconstruction hair shield 300ml
This Serum is a pre-drying sealer with thermal protection for hair. With Brazilian Hydrolized Keratin in its formula, which is fastly absorbed by hair, eliminating frizz and giving shine at the moment. It will be your daily hair best friend!
This product is imported by Brasil & Belleza with exclusive distribution in Spain and Portugal.
---
ALL
DAMAGED
---
Reference: 7898658622445
Brand: Skafe
Availability:

Unavailable
---
The Keramax Hair Reconstruction line is indicated for treating and recovering hair damaged by chemical processes.
Thanks to the combination of maximum load of
Hydrolized Keratin, Royal Jelly and Creatine
, it is possible to achieve a deep hair reconstruction from the inside to the outside, providing maximum hydration and an effect of softness and shine, eliminating frizz instantly
It treats and cares for the hair forming a protective barrier that effectively reduces the damage caused by external aggressions (such as pollution, the use of hair dryers, straightening or dyes, etc.), and also protects against excessive humidity, allowing less drying time and longer hairstyles. It can be used for professional or home use.
An exceptional and indispensable product to have in the living room or at home to finish a perfect hairstyle! Keramax, without a doubt, a must have.
Indication
All types of hair, but it is especially indicated for hair that is fragile, frizzy and damaged by chemical processes, such as straightening, dyeing, bleaching, etc.
Active ingredients
Royal Jelly: One of the richest substances found in nature. Its composition has more than 100 types of elements, vitamins, mineral salts and amino acids that provides strength, shine and rejuvenation of the hair.
Keratin: Protein that keeps hair soft, silky and shiny.
Creatine: Protein that stimulates the energetic metabolism of hair cells.
Action
Protects from heat, eliminates frizz and facilitates brushing.
Results
Very shiny, healthy and loose hair, without frizz, with beautiful and natural movement.
Presentation
Plastic canister with a secure lid, with a precise closing, different from other normal cosmetic containers. Small hole where the product comes out so as not to lose too much.
Pearlescent texture, very soft and very fine, so that the moment of washing is unique and pleasant. Contains 200g of product.
Directions
After washing hair with shampoo and conditioner, put a small quantity of this serum in medium and end of wet hair.
Do not rinse. Let it dry naturally or use a dryer and iron. This product has heat protection.
Know more about

combing cream or serum.
Ingredients
Alpha Isomethyl Lonone, AmylCinnamal, Aqua (water), Behentrimonium Methousulfate, Benzyl Alcohol, Benzyl Salicylate, Buthyphenyl Methylpropional, Cetearyl Alcohol, Cetrimonium Chloride, Citric Acid, Citronellol, Coumarin, Creatine, Diazolidinyl Urea, Dipropylene Glycol, Eugenol, Glycerin, Glyceryl Stearante, Guar Hydroxypropyltrimonium Chloride, Hexyl Cinnamal, Alcohol, Limonene, Linalool.,Mel Extract, Paraffinum Liquidum, Parfum (Perfume9, PEG-40/PPG-8 Methylaminopropyl/ Hydroxypropyl Dimethicone Copolymer, Petrolatum, Phenyl Trimethicone, Pollen Extract, Proppolis Extract, Royal Jelly Extrat, VP/DMAPAAcrylates Copolymer, Sorbitol.
More info
This brand do not test in animal and has a environmental responsibility.
Review and opinion
Ver Review Make Up by Roroma